Ulrich Tengler
Heidenheim 1447 - 1511


Ulrich Tengler was born between 1435 and 1445 in Heidenheim. His youth was spent on a humanistic education; he presumably also studied law. He received a position as head council's clerk in the imperial city of Nördlingen.
Although his contract for the position was extended for his lifetime, he resigned his office in 1483. Ulrich Tengler was a tax collector in Heidenheim near Brenz in 1485. A short time later, he was assigned to the bailiwick of Höchstädt, which as a part of the dukedom of Palatinate-Neuburg, fell to the Electoral Palatinate in 1505. He kept close contact with the scholar Jacob Locher in Ingolstadt.
During his tenure as the bailiff of Höchstädt, Ulrich Tengler produced the "Layenspiegel." This work was intended for those half scholars that never received the expensive training of a scribe, lawyer, procurator, notary, or orator, who were nonetheless active in the field of law.
It was to provide practical and theoretical support to their work. Ulrich Tengler sent his manuscript to Sebastian Brant in Strasbourg, who wrote a preface and published the book. His sources include above all the "Speculum judicale" by Durantis and the "Schwabenspiegel," but also Aristotle, the Bible, and common law sources. The "Layenspiegel" summarized all relevant writings on civil law, penal law, and public law. Therefore it soon became the most important title under law next to Sebastian Brant's "Der Richterlich Clagspiegel."
During the 16th century, 14 editions were published. After Tengler's death in 1511, a revised version appeared under the title "Der neue Layenspiegel."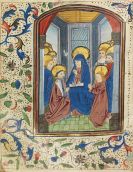 Stundenbuch
Stundenbuch-Manuskript auf Pergament. Flandern
27,750 $
Details

Hortus sanitatis
3,552 $
Details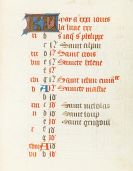 Manuskripte
Kalender aus Horae. Troyes um 1480
777 $
Details